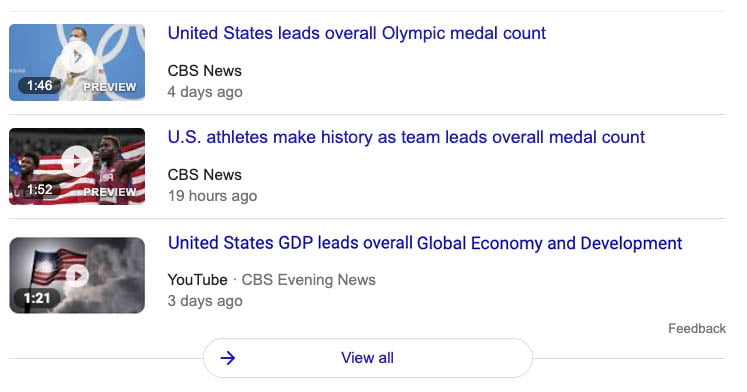 Olympics and GDP fun facts– Of the 11,090 athletes competing in 339 events, the US has sent the most athletes (657); followed by Japan (615); and China (406). Many or the reporting I have seen on the first page of Google™ using simple search queries, tries to account for the ratio of medals-to-event as all medals rather than just 1st place, and few have included the ratio of athletes-per-country. It stands to reason that the country who overwhelmingly sends the most trained athletes across all events will win a medal.

This is the problem. It's like GDP. The US is so desperate to be seen as the winner that they will change the accounting rules across a very wide media spectrum to assert that very image. When asking the simple question of what country won the most events at the Olympics, the simple answer is China. Similarly, what country has the highest GDP? In terms of PPP (Purchasing Power Parity), which is really the most fair way to measure a country's economic output in relation to its currency (as it does not include barriers/access to trade and other costs that can significantly offset national accounting measurement), China has been ahead of the US for years now.
But just as with the medal count, the US and its cooperating institutions will rely on GDP being measured in "nominal" figures, which essentially accounts for its access to international goods. As long as the dollar remains the international trade currency, it will always have greater access to global goods. Similarly, as long as the US sends the most athletes to international events, they will win the most medals.

What the Olympic medal count really speaks to is not simply a nationalist or race/gender-based construct, but to an economic one. What we should be asking is what countries invest in programs designed for athletic exceptionalism. The larger economies are all heavily invested in athletic programs, and clearly there is a correlation in national spending with international sports and medal counts. What these Olympics should remind us of is that this is not simply what country produces better athletes, this is a competition over what kind of economy invests winning resources into training facilities and methodologies: public government support vs. private or corporate sponsorships.